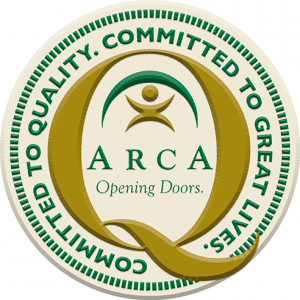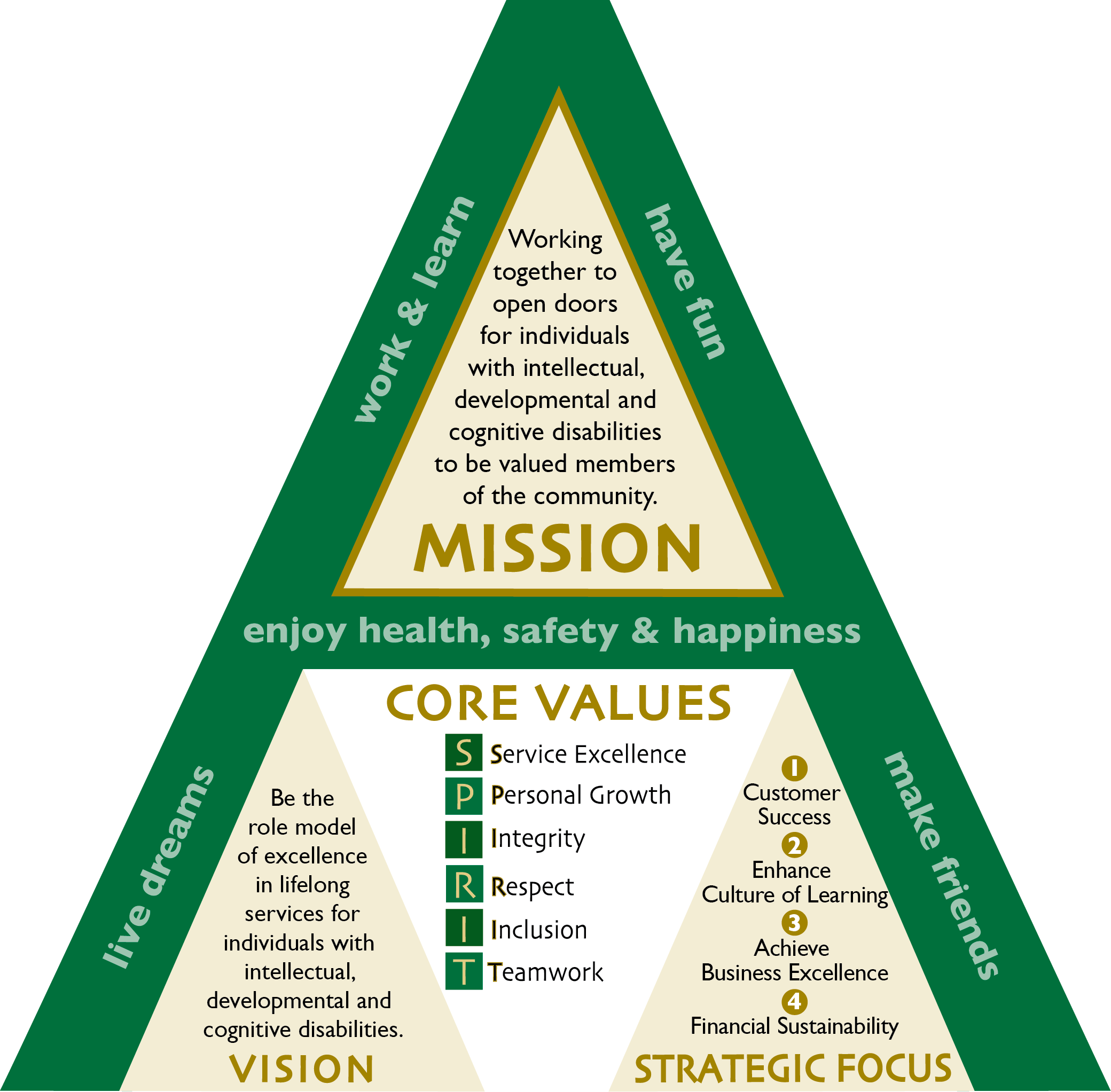 "Our family is very grateful and happy with all the services that have been provided to our daughter. We know she is happy, safe and well taken care of."
At ARCA, our vision is to be the role model of excellence in life-long services for individuals with intellectual, developmental and cognitive disabilities. Every day, we see how program quality enhances the lives of people receiving services in achieving their dreams and goals.
ARCA is on a quality journey to performance excellence with a management system that includes an integrated approach to organizational performance. The outcomes are delivery of ever-improving value to individuals we serve and other stakeholders, organizational sustainability, overall organizational effectiveness and capability and organizational and personal growth. ARCA established a Quality Council, now the Quality Improvement Team, to oversee this pursuit. ARCA is using the national Baldrige Performance Excellence framework as a guide and has established Category Teams for each of the Baldrige categories.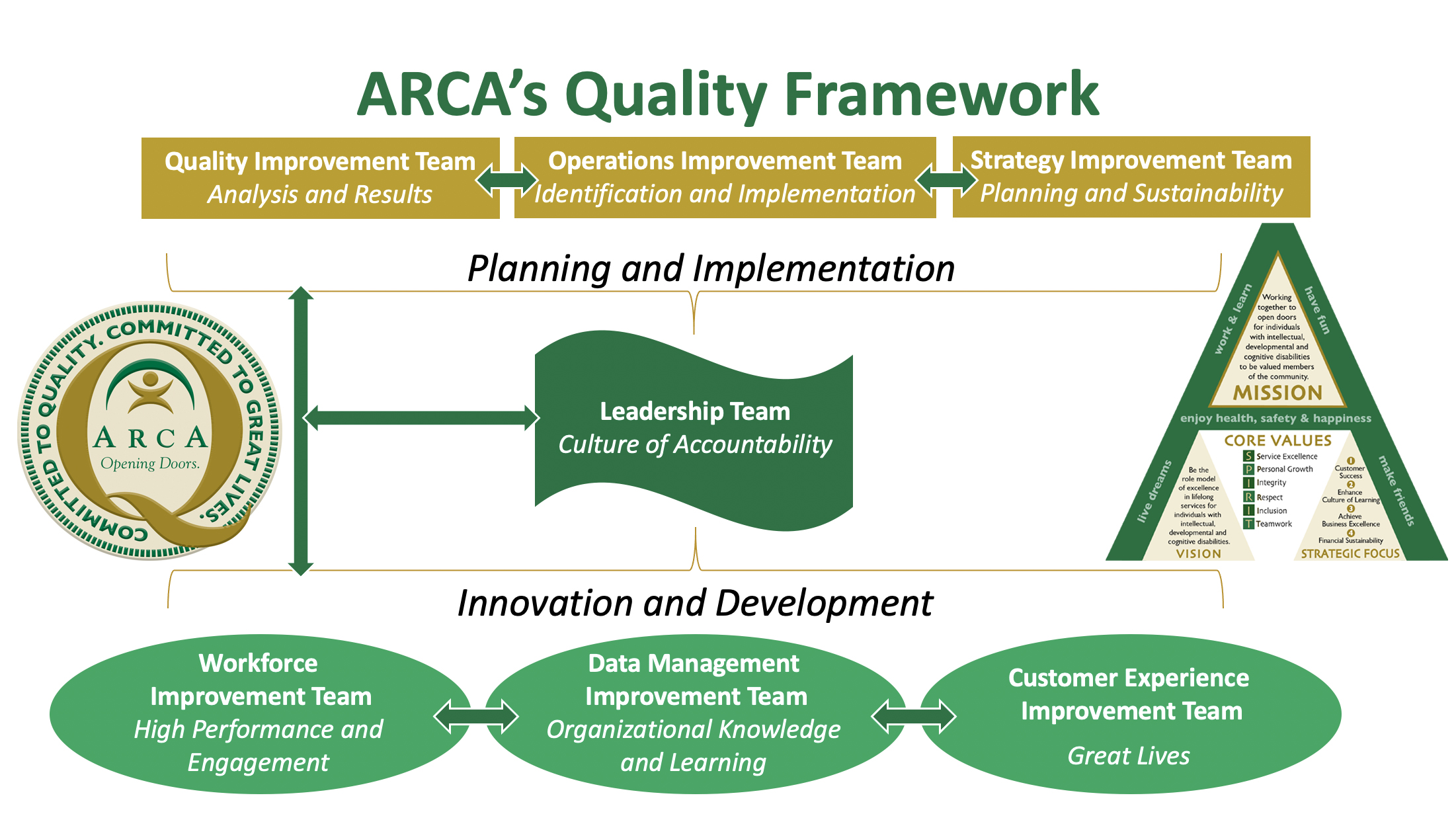 The Quality Framework supports ARCA's Vision to "Be the role model of excellence in lifelong services for people with intellectual, developmental and cognitive disabilities" by implementing a performance excellence framework using the Baldrige Criteria model. This model provides a structure to improve organizational performance and continuous improvement.
• Leadership Team – Culture of Accountability
(Chaired by CEO Director/Designee)
ARCA is a Leadership Team centric organization. The Leadership Team establishes policy, enforces accountability, and manages resources. The team asks how senior leaders' personal actions guide and sustain ARCA. It also asks about ARCA's governance system; how ARCA fulfills its legal, ethical, and societal responsibilities; and how ARCA supports its key communities.
• Strategy Improvement Team – Planning and Sustainability
(Chaired by CEO/Designee)
The Strategy Team and Leadership Team work together to develop and sustain organizational success.
The team asks how ARCA develops strategic objectives and action plans, implements them, changes them if circumstances require, and measures progress.
• Valued Customer Team – Great Lives
(Chaired by Clinical Director/Designee)
The Valued Customer Team ensures that all individuals served are valued members of the community, are happy, healthy and safe, and have a rich life experience. The team asks how ARCA engages its customers (individuals served) for long-term marketplace success, including how ARCA listens to the voice of the customer, builds customer relationships, and uses customer information to improve and to identify opportunities for innovation.
• Data Management Improvement Team – Organizational Knowledge and Learning
(Chaired by Administrative Operations Director/Designee)
The Data Management Team is responsible for working together with the Operations Improvement Team to meet all business needs. The team asks how ARCA selects, gathers, analyzes, manages, and improves its data, information, and knowledge assets; how it learns; and how it manages information technology. The team also asks how ARCA uses review findings to improve is performance.
• Workforce Improvement Team – High Performance and Engagement
(Chaired by HR Director/Designee)
The Workforce Team works to implement ARCA's Core Values and Workforce Competencies to result in an engaged and high performing workforce. The team asks how ARCA assesses workforce capacity needs and builds a workforce environment conducive to high performance. The team also asks how ARCA engages, manages, and develops the workforce to utilize its full potential in alignment with ARCA's overall mission, strategy, and action plans.
• Operations Improvement Team – Innovation and Implementation
(Chaired by Clinical Director/Designee)
The Operations Improvement Team is comprised of quality subject matter experts who work together with their co-workers to implement quality improvement initiatives that impact their respective service and support area. This team is ultimately responsible for implementing quality processes that ensure ARCA's success. The Operations Focus Team asks how ARCA designs, manages, and improves its services and work processes and improves operational effectiveness to deliver customer value and achieve organizational success and sustainability.
• Quality Improvement Team – Analysis and Results
(Chaired by CEO/Designee)
The Quality Improvement Team is the driving force behind ARCA's Stoplight and Measurement System. The Quality Improvement Team asks about ARCA's performance and improvement in all key areas – service and process results, customer results, workforce results, leadership and governance results, and financial and market results. The team asks about performance levels relative to those of competitors and other organizations with similar product offerings.

ARCA uses the "stoplight" approach to report and track the status of selected data measures, or metrics, for identified Key Processes. Target ranges have been set for each metric to determine whether the metric is "Green", "Yellow" or "Red".
Each metric is described by a Metric Worksheet along with the metric Target Ranges that are used to determine the Stoplight color.

The metric owners and/or data owners are responsible for inputting their current data quarterly.
A Stoplight Administrator combines the metric data and the target information to produce each of the defined Stoplight Reports and the ARCA Dashboard.
Corrective Action Plans are required for all metrics that are in the "Red".
All Stoplight Metrics and Corrective Action Plans are reviewed quarterly and approved by the Quality Council. Individualized Stoplight Reports are provided quarterly to each ARCA service/support group, committees and boards for their review.